CME Activity Details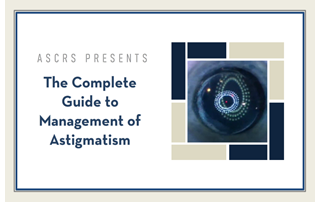 Activity Availability
This CME activity is available free of charge for ASCRS Members.
You do not currently have access to this activity.
Not logged in?
Click the teal "Login" button in the upper right-hand corner and use your ASCRS member login.
Not a member?
Learn more about ASCRS Membership
.
Description
In this 1.5 hour CME activity based on content from the 2019 ASCRS Annual Meeting, join a panel of experts as they explore the essentials of astigmatism treatment and outcomes in cataract and refractive surgery.
Faculty
Session Moderators: Daniel H. Chang, MD, William F. Wiley, MD

Session Speakers: Douglas D. Koch, MD, ABO, Mitchell P. Weikert, MD, ABO, Julie Schallhorn, MD, ABO, Kendall E. Donaldson, MD, Ronald R. Krueger, MD, MSE, Edward E. Manche, MD, Jason P. Brinton, MD, ABO, William B. Trattler, MD, ABO, Elizabeth Yeu, MD, George O. Waring IV, MD, FACS, Kathryn M. Hatch, MD, Eric D. Donnenfeld, MD, Steven J. Dell, MD, and David R. Hardten, MD.
CME Information
Credits: By completing this activity you will earn 1.5 AMA PRA Category 1 Credits™.
Activity Expiration Date: December 31, 2020
Learning Objectives
Upon successful completion of this activity, participants should be able to:
Summarize the essentials of astigmatism management in cataract and refractive surgery, including options for measuring astigmatism and decision points influencing treatment protocols
Compare and contrast the benefits of topography-guided versus wavefront-guided refractive treatments for astigmatism
Compare and contrast the benefits of available methods for accounting for anterior and posterior corneal astigmatism
Describe the basics of treating astigmatism with Toric IOLs and arcuate incisions