Clinical Education
Cataract Resources
Cataract Education
Explore the latest in cataract education by selecting popular topics to the right, or click below to browse across all ASCRS cataract resources.
Browse All Cataract Resources
2023 ASCRS Annual Meeting
Complicated and Challenging Cases in Cataract Surgery Video Symposium
2023 ASCRS Annual Meeting registrants may view this symposium on cataract challenging cases.
ASCRS Clinical Alert
ASCRS Clinical Advisory on Intracameral Moxifloxacin Injection for Infection Prophylaxis
Purpose of this Advisory
Moxifloxacin solution is frequently injected at the conclusion of cataract surgery for endophthalmitis prophylaxis. Two different concentrations are commonly available in the United States (U.S.) for intracameral (IC) use: 0.5% [5 mg/mL] and 0.1% [1 mg/mL]. The recommended volume to be injected is different for the two concentrations, and incorrect dosing can increase the risk of toxic anterior segment syndrome (TASS) or endophthalmitis.
Learn More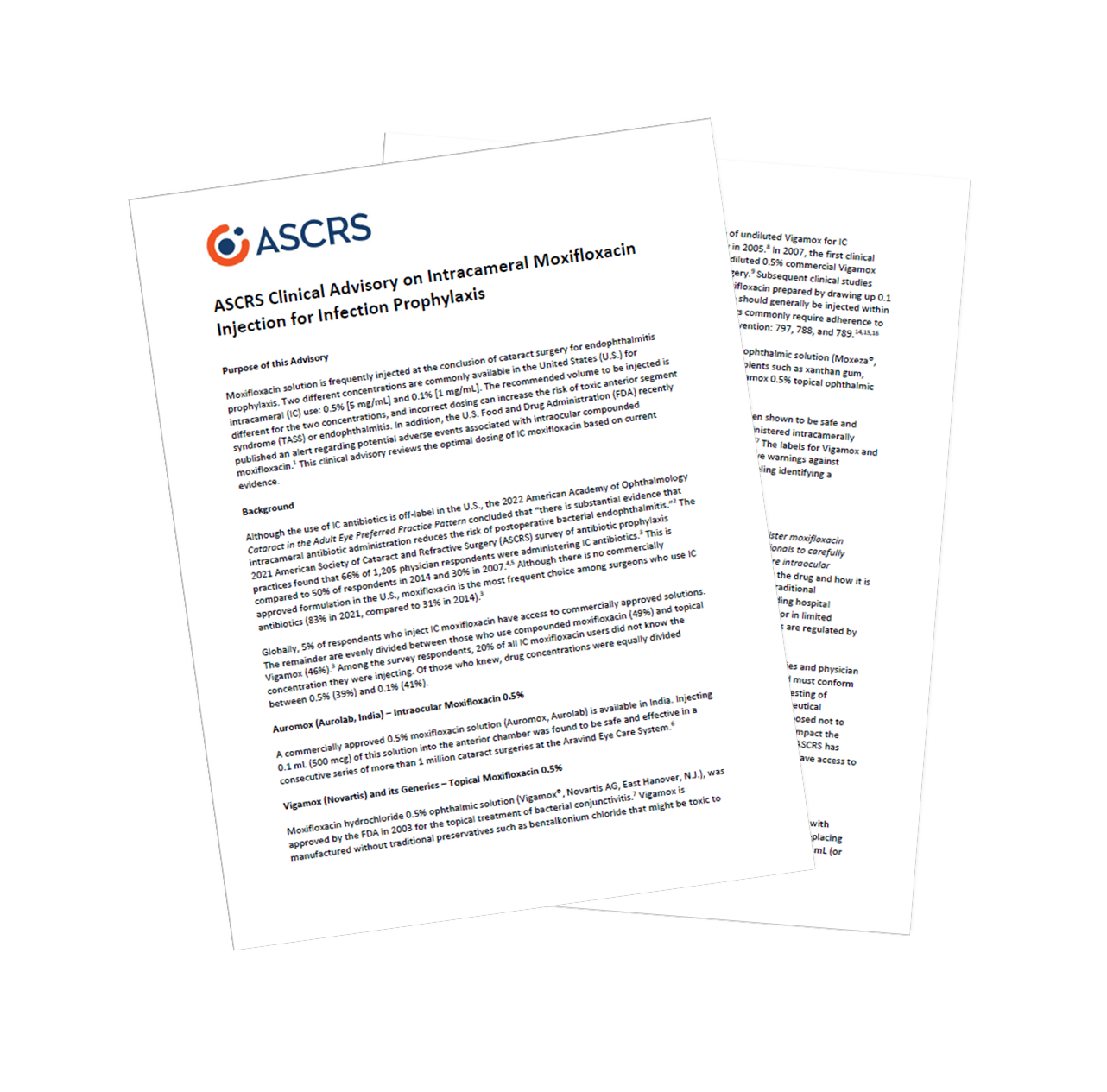 ASCRS Grand Rounds
ASCRS partners with major academic institutions to present a regular series of virtual grand rounds throughout the year.
Grand Rounds are approved for CME credit and available free of charge to all ASCRS members.
Practical Guides for the Cataract Surgeon
ASCRS Focus on Cataract provides one location where ASCRS members can find a wealth of education on specific cataract surgical techniques and complications. Explore the latest cataract topics below.
YES Connect Webinar Series
The YES Clinical Committee hosts monthly YES Connect Webinars on non-clinical topics that are relevant specifically to the YES audience.
View the latest YES Connect webinars below.
Browse all YES Webinars
The Latest in Refractive Cataract: 20/Happy in 2020
The ASCRS master class in refractive cataract surgery
Earn 18 hours of AMA PRA Category 1 Credits™ by participating in this exciting new program.
The live bi-weekly program features 80 of the leading international experts as faculty guiding you through a comprehensive curriculum through which attendees can improve all dimensions of their refractive IOL surgical practice.
Learn More about 20/Happy in 2020