Clinical Education
Practice Management Resources
Practice Management Education
Explore the latest in practice management by selecting popular terms to the right, or click below to browse all ASCRS practice management resources.
Browse All Practice Management Resources
Popular Practice Management Topics
Introduction to Tele-Ophthalmology Guide
In response to the increased use of telemedicine and its impact on the delivery of ophthalmic services, the ASCRS ASOA Telemedicine Task Force created the guide, "Introduction to Tele-Ophthalmology," as an educational resource for physicians and administrators to learn about teleophthalmology. ASCRS ASOA members have exclusive access to this guide, designed to educate readers on the benefits of tele-ophthalmology, various delivery methods, reimbursement, potential liabilities, and challenges.

ASCRS ASOA Teleophthalmology Guide
Tele-Ophthalmology in Your Practice Webinar
Now available is a recording of the January 30, 2019 webinar, "Tele-Ophthalmology in Your Practice," featuring Ranya Habash, MD, assistant professor of clinical ophthalmology at the Bascom Palmer Eye Institute, who provides a comprehensive introduction to tele-ophthalmology, that explores the benefits of teleophthalmology, various delivery methods, Medicare and private payer reimbursement, licensing, and liability considerations. Dr. Habash, an early adopter of telemedicine, has developed an app for secure messaging and video conferencing designed for easy adoption of telemedicine among healthcare professionals. In addition, she consults with healthcare and technology companies seeking to develop and deploy telemedicine tools. Stephen D. Klyce, PhD, FARVO, chair of the ASCRS ASOA Telemedicine Task Force is the moderator of the webinar.
Watch Webinar
Earn CME Credit
Great Surgery Begins with Great Communication: Managing Communications and Expectations with our Patients
In this CME webinar, speakers will present real case scenarios when discussing with patients the different options of Refractive Cataract Surgery including pre-experience education, communicating appropriate patient expectations, and managing the unhappy patient.

APPROVED FOR 1.0 AMA PRA Category 1 Credit™
Enroll Now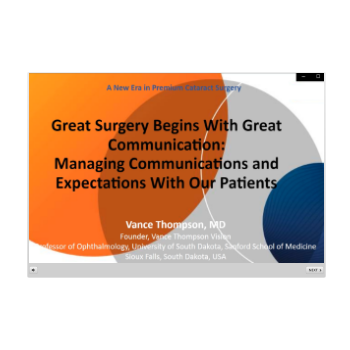 Practice Management for Administrators 
The American Society of Ophthalmic Administrators (ASOA) empowers ophthalmic leaders to elevate the business of ophthalmology through education, innovation, support, and collaboration.
Explore a variety of educational resources for practice administrators, managers, and executives on the ASOA website.
Visit ASOA.org for more information