FOR IMMEDIATE RELEASE
MEDIA CONTACT: Karen Mathes
913-484-5355; kmathes@ascrs.org
ASCRS Foundation Welcomes New Executive Director
Abigail Markward, MBA, brings decades of expertise to the philanthropic arm of ASCRS
Fairfax, Va. – November 1, 2023 – The American Society of Cataract and Refractive Surgery (ASCRS) welcomes Abigail Markward, MBA, as the new Executive Director of the ASCRS Foundation. Ms. Markward has more than two decades of expertise in strategic communications, marketing, publishing, and nonprofit experience.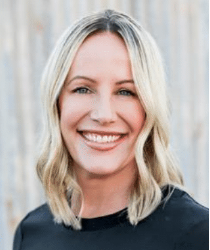 Ms. Markward's distinguished career is underscored by her exemplary corporate leadership and extensive nonprofit contributions to the ophthalmic industry. Most recently she served as Vice-President of Business Development and Associate Publisher at PentaVision, a company subsequently acquired by BroadcastMed in 2022. In this capacity, she collaborated with various corporate partners to orchestrate large-scale marketing and content campaigns of impactful clinical significance at the pivotal juncture of industry and medical professionals.
Ms. Markward's commitment to humanitarian causes is exemplified by her participation in a transformative two-week women's advocacy mission to Nepal in 2018, in collaboration with SightLife International. She previously served as President and now Immediate Past-President of Ophthalmic World Leaders (OWL), a non-profit organization dedicated to advancing diversity within the ophthalmic industry's leadership ranks.
"I am elated and humbled to join the ASCRS Foundation team and eager to expand upon the exceptional work accomplished to-date. I am deeply honored to contribute to the Foundation's noble mission of enabling, educating, and furnishing resources to surgeons, thereby facilitating ophthalmic surgery and care on behalf of both our valued members and the patients under their care," Ms. Markward said.
Ms. Markward is a native of Champaign, Illinois, and earned a Bachelor of Arts at Rhodes College in Memphis, Tennessee, followed by a Master of Business Administration at the University of Memphis.
***
About ASCRS
The American Society of Cataract & Refractive Surgery (ASCRS) was founded in 1974. Since then it has been at the forefront of anterior segment surgery and an established resource for cataract, refractive, cornea, and glaucoma surgeons. ASCRS is committed to advancing the art and science of ophthalmic surgery as a primary source for the latest clinical information, published research, and regulatory updates affecting anterior segment surgeons and the patients they serve.
About ASCRS Foundation
The ASCRS Foundation supports physician education and provides humanitarian cataract surgery in the United States and developing countries. Through its programs and partnerships, the ASCRS Foundation works to maximize the benefits of modern ophthalmology and to treat thousands of patients in need each year. The ASCRS Foundation is a 501(c)(3) organization.