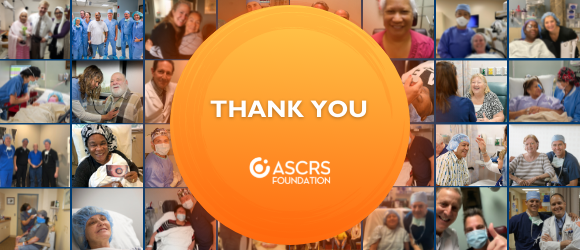 Our hearts are full! Together, the ASCRS Foundation community rose to the challenge and unlocked the the Aerie Match raising $121,086 during the ASCRS ASOA Annual Meeting! Your generosity will change the lives of 484 additional patients in 2022 who need us now more than ever.
For many individuals, surgery will give not only the gift of sight, but the key to regaining employment to provide for their families. Because of our generous donors, their lives will be forever changed through the Operation Sight program.
Click the video below to see the complete list of donors who supported this initiative.
"For a fifth year in a row, the number of ASCRS and ASOA member donations to "make the match" has set a new Foundation record. We are inspired to continue this commitment knowing that each year more of you give and increase your giving- not to mention the growing roster of volunteer surgeons - to support this sight-restoring, life-changing work. All of us at Aerie thank you for the precious gifts of your donation, time and talent."
-Gary Sternberg, MD, MBA, Chief Medical Officer, Aerie Pharmaceuticals, Inc.
Thank you for your continued support of our initiatives to prevent cataract blindness. We are reminded of the true meaning of unity, commitment and the generosity of the entire ophthalmology community. We are incredibly grateful for you!