Claim Credits for the 2023 ASCRS Annual Meeting
The online evaluation site for the 2023 ASCRS Annual Meeting is closed. To claim CME credit for 2023 ASCRS Annual Meeting or 2023 ASCRS Subspecialty Day, please complete the ASCRS CME Credit Request Form.

ASCRS CME Request Form
2023 ASCRS Annual Meeting Certificate of Attendance (No Credit)
Click here to receive a Certificate of Attendance for the 2023 ASCRS Annual Meeting. You will need your verified Badge ID in order to receive the certificate.
Claim Credits for Other ASCRS Meetings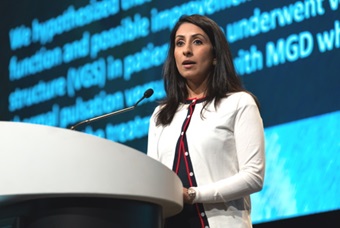 To claim credit for any previous ASCRS meeting(s), complete the ASCRS CME Credit Request Form linked below. This form allows you to submit required information to ASCRS about the event(s) for which you would like to claim credit.

You may view your credit records and CME certificates within your personalized ASCRS CME Transcript. Please check the transcript prior to submitting a CME request.

ASCRS CME Request Form
Claim Credits for CME 24/7 Activities
Credits from CME 24/7, ASCRS's online CME portal, are issued automatically upon completion of the online CME activity and will appear on your ASCRS CME Transcript within one week. If credits are not present in your ASCRS CME Transcript, please contact cme@ascrs.org for assistance.

To view the most up-to-date CME 24/7 credits and activity status of your enrolled CME 24/7 activities, log in to CME 24/7 and click "Education Tracker" in the main navigation.

To earn CME credit on demand, visit the CME 24/7 Activity Catalog to browse and enroll in CME activities.