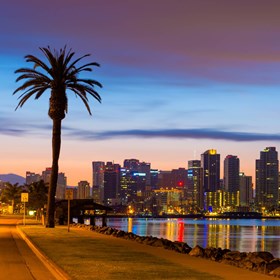 May 5-8, 2023   |   San Diego, CA
2023 ASCRS ANNUAL MEETING
ASCRS On Demand: Papers
The latest in ophthalmic research and technology
Registered physicians have access to almost 700 scientific papers presented at the meeting. Papers are arranged into sessions based on one of more than 35 clinical categories and will include up to 15 paper presentations based on accepted abstracts.
Presented papers are provided in video format.
Presentations will be posted on Wednesday, May 10, 2023, at 12 p.m. ET and will be exclusively available to physician registrants for one year.
Login and physician meeting registration required to view on-demand sessions.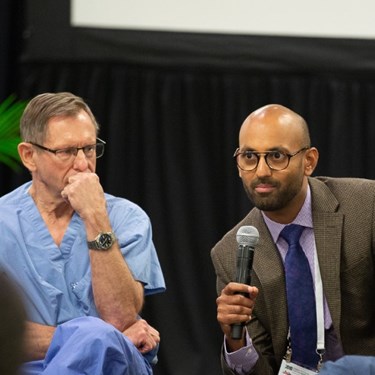 2023 Best Papers of Session (BPOS) Winners
| Session | Winning Paper title | Presenter | Co-Authors |
| --- | --- | --- | --- |
| SPS-101 Corneal Infectious Disease | Drug-Depository Contact Lens Hasten Healing and Minimize Antimicrobial Loading Doses in Bacterial Keratitis: A Randomized Controlled Trial | Lional Raj Daniel Raj Ponniah, MD | |
| SPS-102 Cornea Procedures and Outcomes- DMEK | Intracameral Enoxaparin for Complex Endothelial Keratoplasty: A Pilot Safety Study." | Lakshman Mulpuri, MD | Rahul S. Tonk, MD, MBA; Evan Werner, MD; Albert Y. Cheung, MD; Donald Stone, MD; Alfonso L. Sabater, MD, PhD |
| SPS-103 Presbyopia Correcting IOLs- Extended Depth of Focus/Extended Range of Vision IOLs | Clinical Outcomes of a Non-Diffractive Extended Depth-of-Focus IOL in Eyes with Glaucoma | Tanner Ferguson, MD | Caroline W. Wilson, MD, ABO; Brian M Shafer, MD, ABO; John P. Berdahl, MD; Daniel C. Terveen, MD |
| SPS-104 Surgical Planning | Applying Collagen Understanding to Refractive Assessment, Treatment and Evaluating Outcomes. | Pooja Khamar, MD, PhD | Rohit Shetty, FRCS; Abhijit S. Roy, PhD; Rahul P. Patil Raghav Narasimhan |
| SPS-105 Cataract Surgery - Techniques | One-Year Postoperative Outcomes Following Transfixion of Foldable Intraocular Lens with Polytetrafluoroethylene Suture for Scleral Fixation | Angel Pineda Fernandez, MD | |
| SPS-106 Presbyopia Correcting IOLs II | Simulated Ocular-Biometry Effects on Add-Power Demand in Multifocal Intraocular Lenses | Grzegorz Labuz, PhD | Isabella D. Baur, MD; Ramin Khoramnia, MD; Gerd U. Auffarth, MD, PhD |
| SPS-107 Presbyopia Correction: New Treatments and Studies | Dynamic Range of Focus Recovery after Laser Scleral Microporation in Emmetropic Presbyopes: 18 Month Pilot Study Outcomes | Robert Edward Ang, MD | AnnMarie Hipsley, PhD; Mitchell A Jackson, MD, ABO |
| SPS-108 Keratoconus II | Posterior Segment Length in Keratoconus Patients May be Longer Than Emmetropic Patients | Muhammad Ahad, FRCSEd, MRCOphth, PhD | |
| SPS-109 Refractive Procedures- PRK, LASIK, SMILE, Phakic IOLs, Inlays, Rings | Ultrasound Biomicroscopy Protocol and Novel Graphic Calculator to Position Phakic Intraocular Lenses in Patients with Sulcus Cysts | Brian Armstrong, MD | Ivana Romac Coc, MD; Khalid N Qadha, COT; Samuel E. Navon, MD, ABO |
| SPS-110 Post-Refractive IOL Calculations | Comparison of IOL Calculation Formula Performance in Eyes Following Myopic Excimer Laser Corneal Refractive Surgery | Mitchell Weikert, MS, MD | Karim Kozhaya, MD; Douglas D. Koch, MD, ABO; Peter I Kenny, BSc Li Wang, MD, PhD |
| SPS-111 Cataract IOLs- Monofcal/Extended Depth of Focus II | Pre-Operative Biometric Indicators for Maximizing Intermediate Vision with a Monofocal IOL | Nicole Duncan, MD | J. Morgan Micheletti, MD, ABO, FACS |
| SPS-112 Cataract Surgery - Other | Clinical and Histopathological Findings in the Dead Bag Syndrome: Update | Nick Mamalis, MD | Catherine J. Culp, MD; Phillip Qu, MD; Jason J. Jones, MD; Nicole R. Fram, MD, ABO; Gregory SH Ogawa, MD; Samuel Masket, MD, ABO; Liliana Werner, MD, PhD |
| SPS-113 Keratoconus | Topography Guided Photorefractive Keratectomy (TGPRK) after Corneal Tissue Addition for Keratoconus (CTAK) | Austin Yu, BA | Peter S. Hersh, MD, FACS; Steven A. Greenstein, MD, ABO |
| SPS-114 Cornea Procedures and Outcomes II | Cardiovascular Effects of Immunosuppression for Ocular Surface Stem Cell Transplantation | Shabnam Mansur, MS | Albert Y. Cheung, MD; Edward J. Holland, MD |
| SPS-115 Retina | Astigmatic Correction with Secondary Scleral Sutured Intraocular Lens and Pars Plana Vitrectomy | Matthew Starr, MD | |
| SPS-116 Minimally Invasive Glaucoma Surgery (MIGS) | Minimally Invasive Glaucoma Surgery (MIGS) in Open Angle Glaucoma: An Updated Systematic Review and Meta-Analysis. | Po Hsiang (Shawn) Yuan, MD | Joseph F. Panarelli, MD; Georges M. Durr, FRCSC, MD |
| SPS-117 Surgical Outcomes III | Surgically Induced Astigmatism with Manual Small Incision Cataract Surgery Technique in a Referral Cataract Center | Dalila Salas-Baena, MD | Leticia Flores, MD; Samir I. Sayegh, MD, PhD, FACS, ABO; Karen Marrufo, MD; Wendy Cedillo Suarez, MD; Alejandra Jolly, MD; Yareni Martinez, MD; Claudia Palacio, MD |
| SPS-118 Cataract IOLs- Monofcal/Extended Depth of Focus | Long Term Visual and Patient Reported Outcomes of Small Aperture IOLs in Post- Refractive Eyes | Robert Edward Ang, MD | |
| SPS-119 Ocular Surface Disease | Transcutaneous Electrical Stimulation for the Prevention of Dry Eye Disease after Photorefractive Keratectomy: Randomized Controlled Trial | Tae-Young Chung, MD | Dong Hui Lim, MD, PhD; Gyule Han, MD; Young-sik Yoo, MD, PhD; Eunhae Shin, MD |
| SPS-120 Presbyopia Correcting IOLs | Prospective, Open-Label, Non-Randomized, Trial of a Presbyopia-Correcting, Modular Intraocular Lens System for Treatment of Cataract. | George Waring, MD | Mikheil Kurtanidze, MD; Ashvin Agarwal, MD; Preethi Thiagarajan, OD, PhD; Christopher J. Engelman, MD; John Scholl, MS; P. Dee G. Stephenson, MD, FACS, ABO |
| SPS-121 Refractive Outcomes II | Analysis of Refractive Outcomes in SMILE Converted to LASIK ("Cap to Flap") Enhancements | Michael DeCourcey, MD | William F. Wiley, MD, ABO; Shamik Bafna, MD; Kathleen J Jee, MD; Arjan Hura, MD; Jeffrey M. Augustine, OD |
| SPS-122 Femtosecond Laser-Assisted Cataract Surgery | Comparison of Safety and Endothelial Cell Density Following Phaco and FLACS with Customized Fragmentation Patterns in Dense Cataracts | Sheetal Brar, MS | Sri Ganesh, FRCS, MS, DNB |
| SPS-123 Preoperative Tests and IOL Power Calculations II | Comparing Intraocular Lens (IOL) Power Calculation Prediction after SK/PTK Based on Ablation Depth and Pattern | Kevin Jackson, MD | Hazem M. Mousa, MD; Kourtney H. Houser, MD, ABO |
| SPS-124 Devices and Instruments | Development of Phototoxic Maculopathy As a Function of Coaxial Illumination Intensity in Diabetic Patients at the Time of Cataract Surgery | Lopa Shah, BSc | Kimberly C. Sippel, MD; Eric D. Rosenberg, DO, MSE |
| SPS-201 Ocular Surface Disease II | A Prospective Randomized Evaluation of Topical Ivermectin Cream for Treatment of Ocular Demodex Infestation | Craig Helm, MD | Saba Al-Hashimi, MD |
| SPS-202 Refractive Outcomes | Sequential Implantable Collamer Lens and LASIK for Treatment of High Compound Hyperopic Astigmatism | Daniel Li, MD | Mathieu Gauvin, PhD, BEng; Guillermo Rocha, MD, FACS; Avi Wallerstein, MD, FRCSC |
| SPS-203 Challenging Cases | Clinical Outcomes and 2-Year Follow-up of a New Hydrophobic, Aspheric, One-Piece Intraocular Lens in Pseudoexfoliation Syndrome | Andreas Borkenstein, MD | |
| SPS-204 Surgical Outcomes | Incidence and Outcomes of Uveitis-Glaucoma-Hyphema Syndrome after Scleral-Fixated Intraocular Lens Implantation | Cason Robbins, MD | James Tian, MD; Kourtney H. Houser, MD, ABO |
| SPS-205 Surgical Comparisons | Nanolaser Photofragmentation: Comparison to Phacoemulsification for Energy, Fluidics, Time, Corneal Endothelial Cell Loss, and Visual Acuity | Gangolf Sauder, MD | |
| SPS-206 Astigmatism Management and Toric IOL Alignment II | A New Technique for Assessing Toric Intraocular Lens Alignment Post-Operatively Using Capsule Polishing | Ben LaHood, FRANZCO, PhD | |
| SPS-207 Ocular Surface Disease III | Meibomian Gland Atrophy in Patients with Demodex Blepharitis | Elizabeth Yeu, MD | Cecelia Koetting, OD, ABO |
| SPS-208 Refractive Comparisons & Complications | Losartan Inhibition of Myofibroblast Generation and Late Haze (scarring fibrosis) after PRK in Rabbits | Lycia Maria Sampaio, MD | Guilherme Hilgert, MD; Shiju Thomas Michael, PhD; Marcony R. Santhiago, MD, PhD; Steven E. Wilson, MD, ABO |
| SPS-209 Glaucoma - Surgical Outcomes and Comparisons | Effects of Subconjunctival Sibs Microshunt Implantation on Diurnal Intraocular Pressure Fluctuation in Glaucoma Patients | Anastasiya Vinokurtseva, MD | James J. Armstrong, MD, PhD; Matthew B. Schlenker, MD, FRCSC; Ike K. Ahmed, MD, FRCSC, ABO |
| SPS-210 Astigmatism Management and Toric IOL Alignment | Comparison of Total Corneal Tomographic Astigmatism with Predicted and OCT Measured Posterior Corneal Astigmatism in Toric IOL Calculations | Xavier Mortensen, MD | Kenneth L. Cohen, MD; Neel K Patel |
| SPS-211 IOLs- Trifocal | Using Adaptive Optics, Assess Impact of Coma on Vision in Eyes with Extended Depth of Focus Monofocal-Plus and Multifocal IOLs | Karim Kozhaya, MD | Li Wang, MD, PhD; Mitchell P. Weikert, MD, MS, ABO; Peter I Kenny, BSc; Douglas D. Koch, MD, ABO |
| SPS-212 Cornea Diagnostics and Studies II | Interim Assessment of Safety & Efficacy of Human Corneal Endothelial Cell Therapy for Corneal Edema Secondary to Endothelial Dysfunction | Matthew Giegengack, MD | Edward J. Holland, MD; Elizabeth Yeu, MD; Rodrigo A. Quesada, MD; John P. Berdahl, MD; Michael H. Goldstein, MD, MBA, ABO; Eris Jordan, OD |
| SPS-213 Collagen Crosslinking | Corneal Stromal Demarcation Line after Corneal Crosslinking: Sub400 Protocol Versus Conventional Protocol | Semra Akkaya Turhan, MD | Elif Bagatur Vurgun, MD; Burcin Gogus, MD; Ebru Toker, MD |
| SPS-214 Cornea Diagnostics and Studies | Integrated Ocular Safety Summary of Mirvetuximab Soravtansine in Patients with Folate Receptor Alpha (FRα)-Positive Recurrent Ovarian Cancer | Kamran Riaz, MD | Andrew J. Hendershot, MD, ABO; Mark Slabaugh, MD |
| SPS-215 Minimally Invasive Glaucoma Surgery (MIGS) II | A Clinical Registry Study of Glaucoma Medication Use in Patients with Mild Glaucoma Severity After MIGS | Michael Mbagwu, MD | Richard S. Chapman, MS; Kristian Garcia, MPH, BA; Cristina Masseria, PhD; John C. Liu, BA, JD; Jaime E Dickerson Jr., PhD; Louis B Cantor, MD, ABO |
| SPS-216 Surgical Outcomes II | The Safety, Efficacy and Patient Reported Outcomes of Multifocal Intraocular Lens Implantation in a Cohort of Post-LASIK Patients. | David Teenan, FRCOphth, FRCSEd | David Teenan, FRCOphth, FRCSEd; Jan A. Venter, MD; Stephen J. Hannan, OD |
| SPS-217 Cataract IOLs- Small Aperture/Pinhole and Other | Dissatisfaction after Multifocal Intraocular Lens Implantation | Imane Tarib, MD | Tanner J. Ferguson, MD; James B Randleman, MD |
| SPS-218 Devices and Instruments II | Real World Use and Efficiency Savings for Clinical Staff When Using Automated Telephone Follow up after Routine Cataract Surgery. | Aisling Higham, MBBS, MSc, FRCOphth | Ernest Lim, MBBS, BSc; Filip Tarcoveanu, MD; Christopher King, FRCOphth; Sarah J Maling, FRCOphth; Mike W. Adams, FRCOphth, MBBS, MA |
| SPS-219 Pediatric | A Model to Predict Refractive Shift in Bilateral Pediatric Cataract Surgery | Emily Ye, MS | Rupal H. Trivedi, MD; M. Edward Wilson, MD, ABO |
| SPS-220 Glaucoma - Procedures | Risk of Angle Closure Glaucoma with Bisphosphonate Use in Patients with Osteoporosis | Bonnie He, MD | Mahyar Etminan, PharmD; Brennan Eadie, MSc, PhD, MD, FRCSC; Rami Darwich, MSc, MD, PhD |
| SPS-221 Medications (Preoperative, Postoperative, Intraoperative) | A Phase 3 Study of APP13007 (Clobetasol Propionate Ophthalmic Nanosuspension 0.05%) to Treat Inflammation and Pain after Cataract Surgery | Michael Korenfeld, MD | Thomas Walters, MD; Joseph Martel, MD; Derek J. Nunez, MD; Laurene Wang, PhD, MS |
| SPS-222 Preoperative Tests and IOL Power Calculations | Accuracy of Intraocular Lens Calculations in Eyes with Keratoconus | Magali Vandevenne, MD | David Zadok, MD; Mor M. Dickman, MD; Rudy M. Nuijts, MD, PhD; Adi Abulafia, MD; Tos TJM Berendschot, PhD |
| SPS-223 Cataract Surgery - Other II | Surge and Capsule Dynamics during Phacoemulsification using an Adjustable Compliance Mechanical Eye Model | Jaime Zacharias, MD | Nicolas Berthet, MD; Diego Orellana, MD |
| SPS-224 Preoperative Tests and IOL Power Calculations III | Novel Objective Cataract Grading System Based on SS-OCT and Deep Learning | Damien Gatinel, MD, PhD | Pierre Zéboulon, MD; Christophe Panthier, MD; Jacques Bijon, MD; Helene Rouger, PhD |
| SPS-301 Cornea Procedures and Outcomes | Clarity: A Pivotal Study of a Novel Recombinant Human Collagen (rhCIII) Biosynthetic Cornea (EB-301) in Patients with Corneal Blindness. | Charles Semba, MD | Zhiqiang Pan, MD, PhD; Jinzhong Zhang, PhD; Youqin Tian, MD, PhD; Lening Zhang, MD, PhD; Chunlin Yang, PhD |
| SPS-302 Non-Clinical | Family Glaucoma Risk Communication: A Community-Based Online Intervention | Eli Cehelyk, BA | William Vervilles, BSc; Shahin Hallaj, MD; Sagar J Shah, BSc; Rosemary Frasso, PhD, MSc; Natasha N. Kolomeyer, MD, ABO |
| SPS-303 IOL Design and Characteristics | Hydrophilic Intraocular Lens Calcification and the Role of Surface Charge | Panos Gartaganis, BSc, MD, PhD | George Ziomas, BSc; Theodora Kourassi, BSc; Panagiota D. Natsi, PhD, BSc; John Kalatzis, BSc; Sotirios P. Gartaganis, MD, PhD; Petros G. Koutsoukos, PhD |