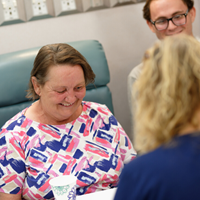 ASCRS Foundation
Donate
Give the Gift of Sight
Your donation today will help provide sight-giving surgery to thousands in 2020 while educating physicians around the world. Together, we can make a difference.
Note: Internet Explorer is NOT a compatible browser while using the print option from this website. Please use Chrome or Firefox when using the print option within the calculator.
About the Foundation
The ASCRS Foundation supports physician education and provides humanitarian cataract surgery in the United States and developing countries. Through its programs and partnerships, the Foundation works to maximize the benefits of modern ophthalmology and to treat thousands of patients in need each year. The ASCRS Foundation is a 501(c)(3) organization. EIN: 23-7388748.