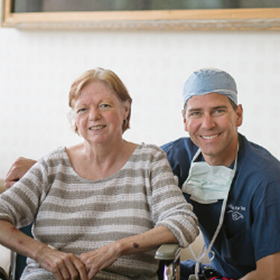 Foundation
Operation Sight
Our Work in the United States
Operation Sight, the ASCRS Foundation's U.S. based charitable cataract surgery program, was launched in 2014 to serve financially vulnerable, uninsured individuals who cannot afford or access care. These members of our own communities often rely on others to complete daily tasks, and if left untreated, risk debilitating vision loss. To date, Operation Sight has delivered more than 8,600 surgeries through a nationwide network of volunteer surgeons committed to caring for those who could not otherwise afford life-changing surgery.
Register as an Operation Sight Volunteer
Patient Qualification Process
Patient Inquiry Form:

The inquiry form is the first step of the screening process to determine patient eligibility. Once you submit your inquiry form, you will be contacted within 5-7 business days via email regarding your eligibility.

Patient Application:

If your information meets the requirements, you will be asked to complete a more detailed application and provide additional documentation. You will be contacted within 3-4 weeks after your complete application has been submitted and reviewed.

Acceptance:

If approved, we do our best to match you with an Operation Sight volunteer in your area. Acceptance to Operation Sight does not guarantee surgery and there is no set timeframe for when an approved applicant will receive surgery.
For more detailed information, please visit our Patient Frequently Asked Questions.
Patient Inquiry Form
Who Qualifies?
Here are the qualifications you need to meet to be eligible for the Operation Sight Program:
Must be at or below the 200% of the Federal Poverty Level defined by the Federal Poverty Guidelines. Documentation of household income and dependents must be provided.
Must be uninsured or underinsured where insurance does not cover cataract surgery. Patients who receive Medicare Part B are ineligible. The program does not pay or assist with copays.
A copy of the cataract diagnosis exam will be required during the application process. This diagnosis must be from an optometrist or ophthalmologist and meet the following requirements:
- Occurred within the past 24 months
- Includes visual acuity score
- Deemed medically necessary by your physician*
*Bilateral vision correctable to 20/40 or below is not deemed as medically necessary, unless otherwise noted by your physician.
Must permanently reside in the United States. Applicants who are temporarily visiting do not qualify for the program.
Operation Sight's charitable surgery and care is offered to patients on a voluntary basis. The program and its volunteers reserve the right to approve or decline service to any approved patient for any reason at any time.


Patient Frequently Asked Questions
Volunteer with Operation Sight
Operation Sight is powered by a nationwide network of volunteer surgeons and their colleagues from ASCRS and other established organizations. Our volunteers are committed to caring for those who could not otherwise afford life-changing cataract surgery. Learn more about the Operation Sight volunteer experience, meet our volunteers and get involved today!
Operation Sight Volunteer Information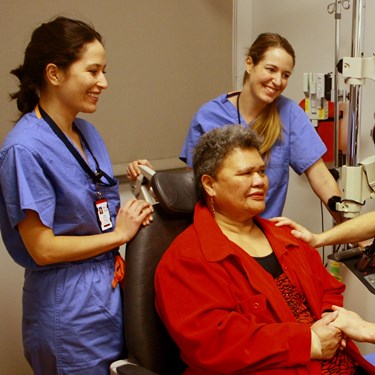 Clear Vision Means "Not Being Afraid"
Operation Sight patient, Kathy, found herself housebound with rapidly progressing cataracts. With limited vision, Kathy knew her vision was failing and shared she was often unstable and would fall. One of her biggest concerns before surgery was driving and she had to negotiate her hours with her employer to be home before dark or before it started raining. Cataracts were affecting her daily life and Kathy's loss of employment and insurance made it challenging for her to afford care without help. Like many Operation Sight patients, Kathy was uninsured and realized she needed "serious help".
After a google search, she found Operation Sight and after being approved, she was matched with generous volunteer surgeon, Jeffrey Levenson, MD. After surgery, with what she describes as a "monster" cataract, she was able to see clearly for the first time, with 20/30 vision. With restored vision, Kathy shared that the power of being able to see again means "not being afraid. Afraid to drive, try new things, exercise, or just go for a walk. I will use this gift as a platform to make changes in my life and hopefully help someone in return."
Operation Sight volunteers like Dr. Levenson are changing lives of uninsured patients like Kathy, who can now navigate daily life with a restored sense of independence and security.
Register to Volunteer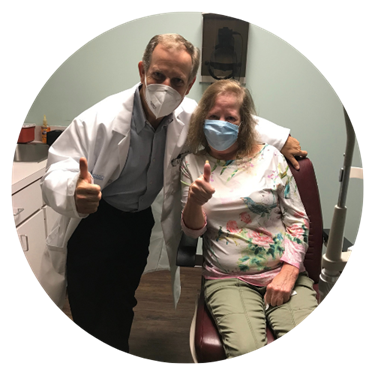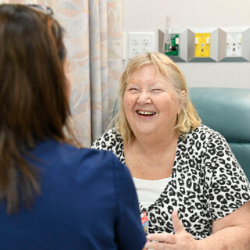 This program could change my life and allow me to regain my independence. You are helping those who do not have the resources to help themselves.
Operation Sight Patient Awaiting Surgery, Harrison, TX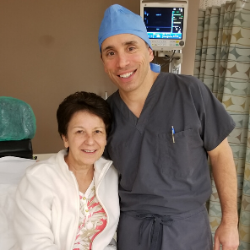 "You are helping the less fortunate to have a healthy and fulfilling life. It is a blessing to have others help those who are most in need."
OPERATION SIGHT PATIENT, Houston, TX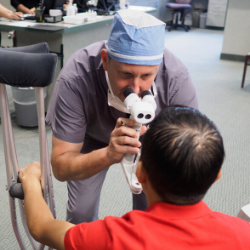 "The gift of sight is a wonderful thing. I know I'm going to appreciate my new-found eye sight if I'm lucky enough to be chosen."
OPERATION SIGHT PATIENT AWAITING SURGERY, reidsville, nD
About the Foundation Financials & Disclosures
The ASCRS Foundation supports physician education and provides humanitarian cataract surgery in the United States and developing countries. Through its programs and partnerships, the Foundation works to maximize the benefits of modern ophthalmology and to treat thousands of patients in need each year. The ASCRS Foundation is a 501(c)(3) organization. EIN: 23-7388748.