ASCRS Clinical Education
ASCRS Focus on Cataract Surgery
Capsular Support: Rings, Hooks, and More
July 2020
Zonular weakness can be a cause for concern in cataract surgery, increasing the risk of complications such as lens dislocation and posterior capsule rupture. In order to avoid such complications, capsular support devices can be used to improve capsular bag stability and centration.
In this month's ASCRS Focus on Cataract Surgery, explore educational resources about the variety of capsular support devices available to today's cataract surgeon.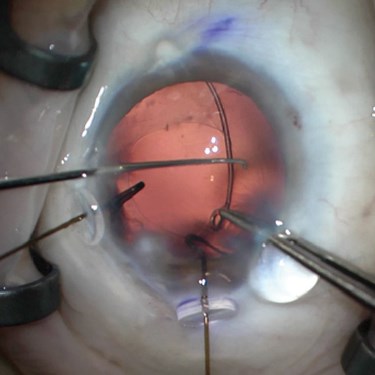 EyeWorld Article
Placing hooks, rings, and things
By Maxine Lipner Senior Contributing Writer

Hooks and expansion rings can be an ophthalmologist's partner when performing phacoemulsification.
Douglas Koch, MD, relies on pupillary expansion devices when there's a risk of inadequate visualization or the potential for iris trauma (via accidental engagement with the phaco tip or through some other manipulation)...
Read more on EyeWorld.org >>
EyeWorld Article
Presentation spotlight: Expanding the iris needs to be safe and easy
By Stefanie Petrou Binder, MD, EyeWorld Contributing Writer

Iris expanders are commonly and gratefully implemented by cataract surgeons in eyes with small pupils. Enlarging the pupil makes cataract surgery safer and easier. It allows the surgeon improved visualization that facilitates anterior capsulorhexis performance, lens removal, and IOL implantation...
Read more on EyeWorld.org >>
Small Pupil Management
Presented by Naveen K. Rao, MD, ABO
This presentation covers the many techniques for management of small pupils during cataract surgery. Optimal techniques for inserting and removing iris hooks and Malyugin rings are discussed.
JCRS Article
Loop-on-suture-guided insertion for easier capsular tension ring insertion and easier residual cortex removal
Journal of Cataract & Refractive Surgery: June 09, 2020 - Volume Publish Ahead of Print - Issue -
doi: 10.1097/j.jcrs.0000000000000276
The capsular tension ring (CTR) is a useful aid in cataract surgery involving zonular impairment. In standard implantation with tweezers or injectors there is limited control of the leading eyelet...
Read more on the JCRS Website >>
JCRS Article
Iris hooks versus a pupil expansion ring: Operating times, complications, and visual acuity outcomes in small pupil cases
Journal of Cataract & Refractive Surgery: February 2019 - Volume 45 - Issue 2 - p 167-173
doi: 10.1016/j.jcrs.2018.08.038
Purpose
: To compare iris hooks and a pupil expansion ring (Malyugin ring) in eyes with a small pupil.
Read more on the JCRS Website >>
Medical and surgical management of the small pupil during cataract surgery
ASCRS Clinical Committee Report
Authored by the ASCRS Refractive Cataract Surgery Subcommittee
As cataract surgery continues to evolve, the intraoperative small pupil continues to pose challenges to even the most experienced cataract surgeon. Several steps can be taken preoperatively to decrease the chance of intraoperative miosis. Even so, the problem of miosis during cataract surgery remains a relatively common occurrence....