Clinical Education
Cornea Resources
Cornea Clinical Education
Explore the latest in cornea education by selecting popular terms to the right, or click below to browse all ASCRS cornea educational resources.
Browse All Cornea Resources
The ASCRS Preoperative OSD Algorithm
Ocular surface disease can reduce visual quality and quantity and adversely affect refractive measurements before keratorefractive and phacorefractive surgeries.
To address this, the ASCRS Cornea Clinical Committee developed a new consensus-based practical diagnostic tool, the ASCRS Preoperative OSD Algorithm, to aid surgeons in efficiently diagnosing and treating significant OSD before any form of refractive surgery is performed.
Learn More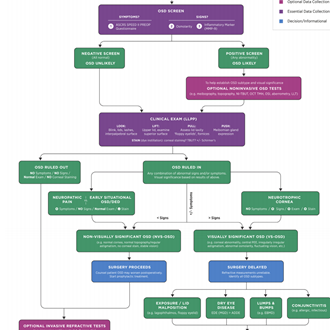 World Cornea Congress VIII
MAY 14-15, 2020 | Boston, MA
Held every five years, The World Cornea Congress highlights the clinical and research progress made by the international corneal community. This two-day meeting includes symposia, free papers, posters, courses, interactive programming, networking opportunities, surgical wet labs, and a dedicated exhibit hall.
Learn More About WCCVIII