ASCRS Clinical Education
ASCRS Focus on Cataract Surgery
Surgical Management of Hard Cataracts
September 2020
Dense and hard cataracts can cause a challenge for ophthalmologists in the operating room, and are often difficult to detect preoperatively. Without proper precautions and tools in place, the wrong move can result in a variety of complications.
In this month's Focus on Cataract Surgery, explore a variety of video and print resources on the surgical management of hard cataracts in order to minimize your chance of surgical complications.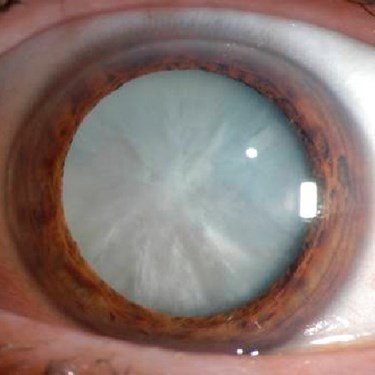 Innovative Techniques and Technologies to Conquer Brunescent Cataracts: Video-Based Course
Course Instructors: Arup Bhaumik, MS, Debashis Dutta, MS, Mrinmoy Das, MBBS, Sanjib Banerjee, MBBS, and Suven Bhattacharjee, MD
Phacoemulsification of brunescent cataracts is challenging. Grading systems of cataracts probably cannot predict hardness, thickness, and leatheriness of these nuclei. This video-based course will highlight all types of techniques and newer technologies to conquer the hardest nuclei. Course will also highlight all probable complications management.
View this Instructional Course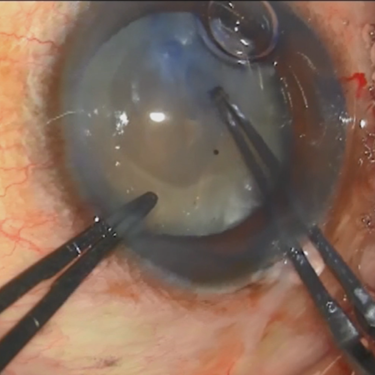 EyeWorld Article
Challenging Cataract Cases: Better management of brunescent and dense white cataracts
by Vanessa Caceres EyeWorld Contributing Writer

Dense white cataracts and mature brunescent cataracts can make surgery particularly challenging, yet the reward comes once patients can see again. "Patients with bilateral brunescent cataracts are typically at hand motions and are the happiest of patients [after surgery]. They go from being unable to live alone to being able to drive," said Zaina Al-Mohtaseb, MD....
Read more on EyeWorld.org >>
EyeWorld Article
Presentation spotlight: Breaking down the nucleus
by Stefanie Petrou Binder, MD, EyeWorld Contributing Writer

Fresh advice from a seasoned surgeon can help keep surgeons on their toes. Speaking on nucleus management issues at the 22nd ESCRS Winter Meeting, Richard Packard, MD, Windsor, U.K., offered tactical pearls on how to use a variety of phacoemulsification approaches for nuclei of different densities....
Read more on EyeWorld.org >>
Presentations On Demand
View captured presentations on hard lenses from the 2019 Annual Meeting and the 2020 Virtual Annual Meeting
ASCRS Webinar: Phacodynamics of the Rock Hard Cataract
Moderator: Gary L. Foster, MD
Panelists: Kendall Donaldson, MD, Michael E. Snyder, MD, and Jonathan Solomon, MD
Sponsored by the Cataract Clinical Committee
This webinar will cover phacodynamics, techniques, and OVDs for the rock hard cataract, including machine specifics and femto laser-assisted considerations.
ASCRS Clinical Committee Report
Phacoemulsification of the rock-hard dense nuclear cataract: Options and recommendations
By the ASCRS Cataract Clinical Committee and Challenging and Complex Cataract Surgery Subcommittee
We describe the essential steps in the successful phacoemulsification of the rock-hard, dense cataract. Appropriate and directed preoperative history, physical examination, and diagnostics allow the surgeon to select the best incision, anesthesia, and intended surgical technique for a given dense nuclear challenge. Hard nucleus-specific approaches for hydrodissection, pupil management, and zonular protection...
Download Clinical Report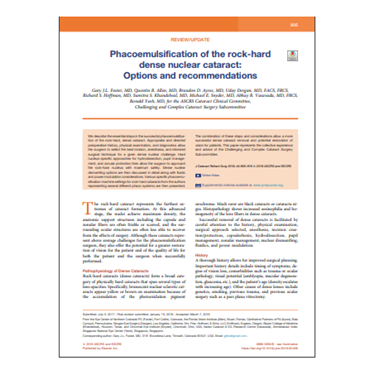 JCRS Articles
Explore the latest published research on posterior capsule rupture from ASCRS's premiere publication, the Journal of Cataract and Refractive Surgery.