CME Activity Details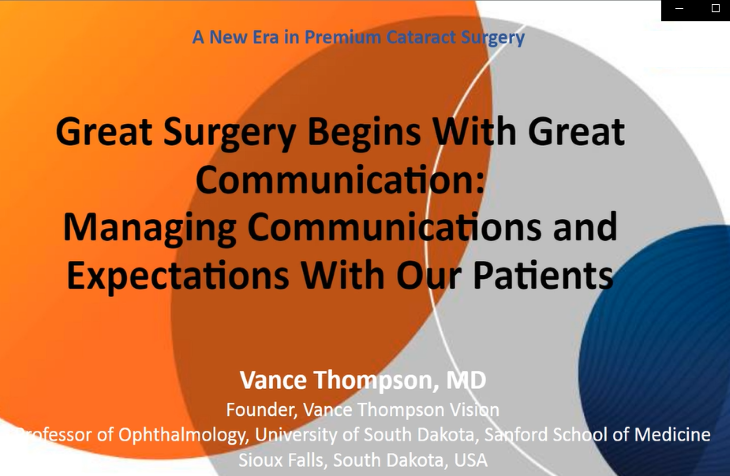 Activity Availability
This CME activity is available free of charge for ASCRS Members.
You do not currently have access to this activity.
Not logged in?
Click the teal "Login" button in the upper right-hand corner and use your ASCRS member login.
Not a member?
Learn more about ASCRS Membership
.
Description
Communication is an important competency for every physician and is key to delivering quality patient care, build good physician-patient relationships, maximize performance, improve patient outcomes, and decrease risk exposure. In this CME webinar, speakers will present real case scenarios when discussing with patients the different options of Refractive Cataract Surgery including pre-experience education and chair-time discussions, communicating and setting appropriate patient expectations, and managing the unhappy patient.
Speakers
Vance Thompson, MD, Richard Tipperman, MD, and Elizabeth Yeu, MD
CME Information
Credits: By completing this activity you will earn 1.0 AMA PRA Category 1 Credits™.
Activity Expiration Date: May 31, 2021
Learning Objectives
Upon successful completion of this activity, participants should be able to:
Implement strategies to effectively communicate with patients pre-operatively to set appropriate expectations.
Employ different approaches to educate patients about the advantages and limitations of state-of-the-art advanced technologies in cataract surgery and discuss the risks and benefits.
Delve into the evaluation and communication process to pinpoint and address the "less than satisfied" post-operative patient.