CME Activity Details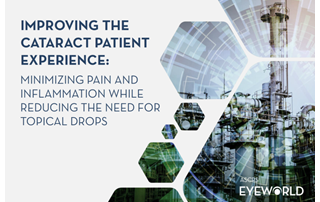 Activity Availability
This CME activity is available to all ophthalmologists.
Click the button below to access this activity in the CME 24/7 portal.
Begin Activity Now
Description
Enjoy this 60-minute CME activity in which a panel of experts discuss the improvement of pain and inflammation in the cataract patient. Topics include the impact of pain and inflammation, an overview of current and emerging approaches to minimize topical drops, and a discussion on reimbursement models.
CME Information
This activity is supported by educational grants from EyePoint Pharmaceuticals, Ocular Therapeutix, Omeros, and ImprimisRx.
Credits: By completing this activity you will earn 1.0 AMA PRA Category 1 Credits™.
Activity Expiration Date: August 31, 2020
Learning Objectives
Upon successful completion of this activity, participants should be able to:
Compare and contrast current and emerging regimens and pharmaceutical approaches for the prevention of pain and inflammation in cataract surgery, including alternative therapeutic options designed to overcome patient compliance concerns and reduce ocular toxicity

Advanced topical medications
Intracameral medications
Sustained release technologies

Determine adjustments needed to pre-, intra-, and postoperative steroid and NSAID regimens for patients at greater risk for inflammation
Discuss cataract patients' perceptions of intra- and postoperative pain and the impact that it has on surgical outcomes and patient satisfaction
Describe evolving reimbursement models to expand access to new approaches to control pain and inflammation after cataract surgery