CME Activity Details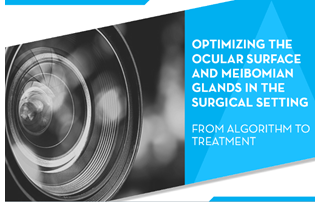 Activity Availability
This CME activity is available to all ophthalmologists.
Click the button below to access this activity in the CME 24/7 portal.
Begin Activity Now
Description
Enjoy this 90-minute CME activity in which a panel of experts discuss optimizatoin of the ocular surface prior to surgery. Topics include the refractive impact of OSD, diagnosing OSD, streamlining OSD diagnosis and treatment, and pairing therapeutics with diagnosis.
CME Information
This activity is supported by educational grants from Shire, Johnson & Johnson Vision, Sun Ophthalmics, and Allergan Inc.
Credits: By completing this activity you will earn 1.5 AMA PRA Category 1 Credits™.
Activity Expiration Date: March 30, 2021
Learning Objectives
Upon successful completion of this activity, participants should be able to:
Describe the ASCRS Cornea Committee ocular surface disease algorithm for preoperative patients and its integra tion into surgical practices
Implement more consistent practice protocols for assess ing lid and meibomian gland function and structure in order to proactively identify MGD signs and symptoms; review evidence for efficacy of therapies for MGD
Appropriately pair treatment choices to severity and etiology of acute and chronic dry eye disease