CME Activity Details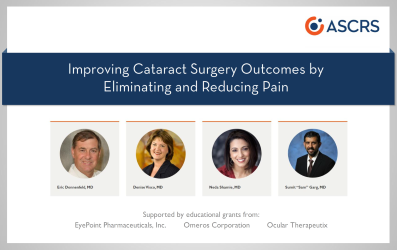 Activity Availability
This CME activity is available free of charge to all ophthalmologists. Click the button below to access this activity in the CME 24/7 portal.
Begin Activity Now
This activity is supported by unrestricted educational grants from EyePoint Pharmaceuticals, Inc., Omeros Corporation, and Ocular Therapeutix.
ASCRS gratefully acknowledges the unrestricted educational grants received in support of the 2020 ASCRS Virtual Annual Meeting and Bonus CME Enduring Activities from Alcon Vision, LLC, Bausch + Lomb, Carl Zeiss Meditec, EyePoint Pharmaceuticals, Inc., and Omeros Corporation.
Description
As patient expectations have increased there has never been a time when it was more important to improve cataract surgery outcomes by reducing pain and inflammation. This webinar will provide the latest information on new advances in drug delivery to increase patient satisfaction and surgical outcomes. View the detailed activity agenda listed below for presentation titles and speaker names.
CME Information
Credits: By completing this activity you will earn 1.0 AMA PRA Category 1 Credits™.
Activity Expiration Date: July 31, 2021
Learning Objectives
Upon successful completion of this activity, participants should be able to:
Compare and contrast current and emerging regimens and pharmaceutical approaches for the prevention of pain and inflammation in cataract surgery, including alternative therapeutic options designed to overcome patient compliance concerns and reduce ocular toxicity.
Determine adjustments needed to pre, intra, and postoperative steroid and NSAID regimens for patients at greater risk for inflammation.
Discuss cataract patients' perceptions of intra-and postoperative pain and the impact that it has on surgical outcomes and patient satisfaction.
Describe evolving reimbursement models to expand access to new approaches to control pain and inflammation after cataract surgery.