Foundation
International Humanitarian Eye Care & Education
International Humanitarian Eye Care and Education
The ASCRS Foundation seeks to address not just individual cases of cataract blindness, but rather to fight it root cause: the shortage of eye surgeons in the developing world. The solution to this issue is two-fold: to create world-class medical centers where efficient doctors can establish a presence, like the Sinskey Eye Institute; and secondly to focus on education—raising the local standards for both patient care and physician training. We're working in multiple countries to effect a lasting change in the treatment of global cataract blindness.
Ethiopia
With a population of over 119 million, and with nearly 2 million of its citizens blind or severely impaired, Ethiopia has one of the highest cataract blindness rates in the world. The ASCRS Foundation has made the fight against developing world blindness a primary goal. With nearly 20 years of direct in-country experience treating patients and training surgeons – and through a series of strategic partnership which have boosted our reach and influence, the ASCRS Foundation has become a leader in the delivery of surgical eye care in Ethiopia.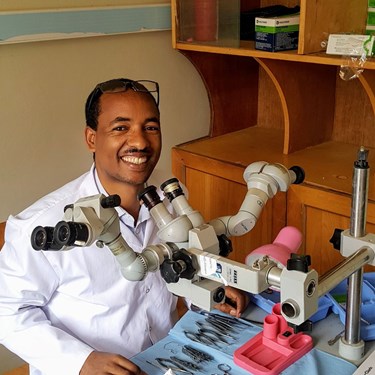 Robert Sinskey Eye Institute
The ASCRS Foundation's international eyecare initiative began in 2004 with the opening of our Robert Sinskey Eye Institute (SEI) in Addis Ababa, Ethiopia. Endowed through the generosity of the late Dr. Sinskey and his wife, Loraine, and continued financial investment of the ASCRS Foundation, this permeant hospital has served over 270,000 patients in the last two decades. As of 2022 the hospital is self-sustaining. Delivering medical and surgical eyecare in a country where access is often severely limited is a vital part of our mission. We remain steadfast in our mission and will continue to expand patient care to those who need it most.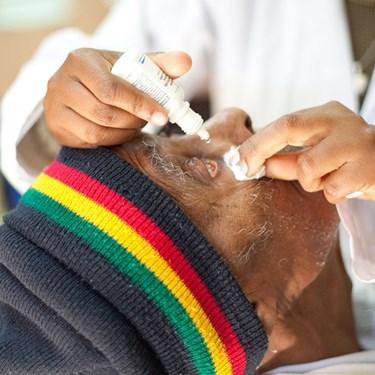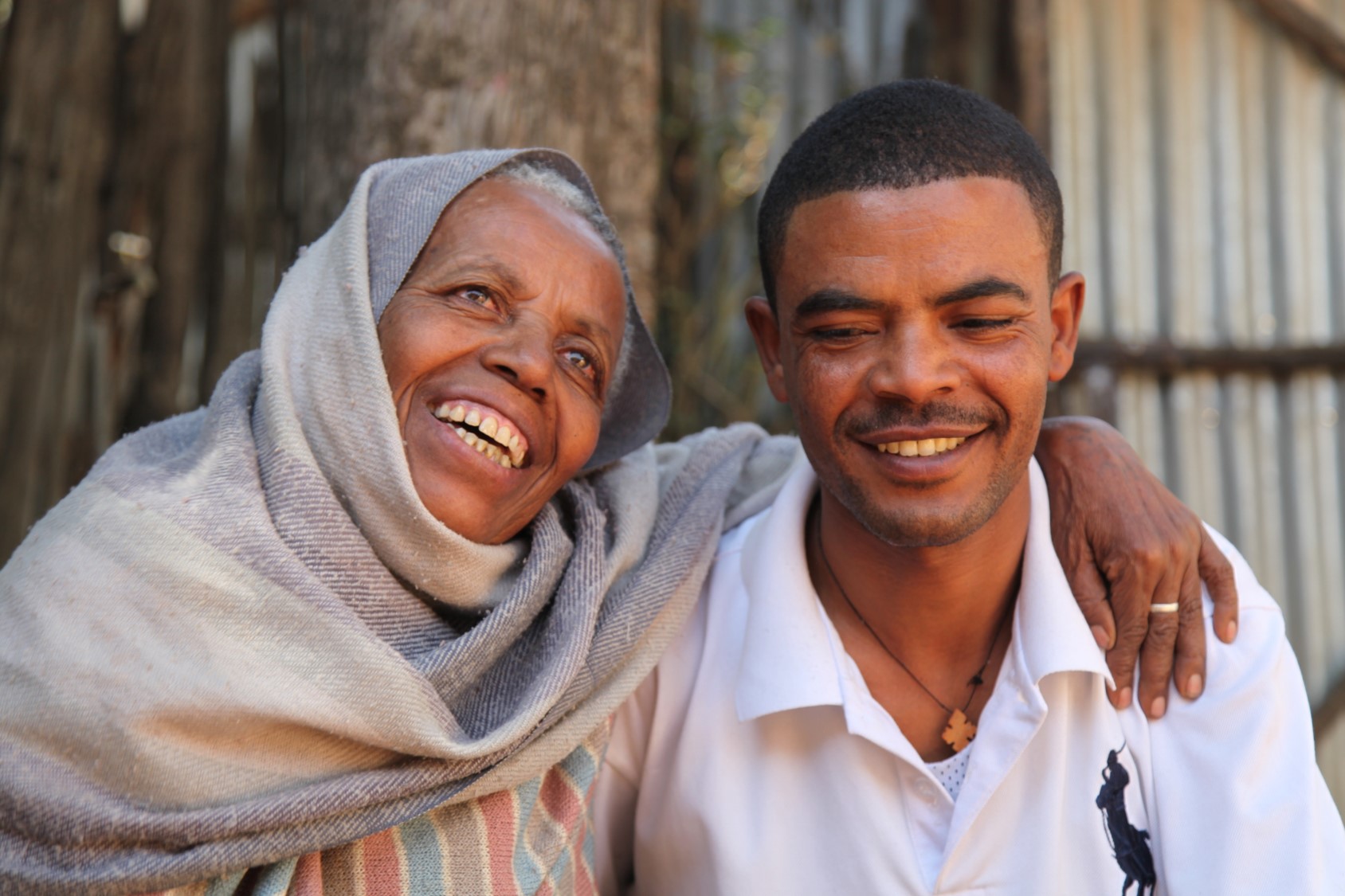 "I was blind for 9 years and now I can see. I have been born again!"
Aster Berhanu - Robert Sinskey Eye Patient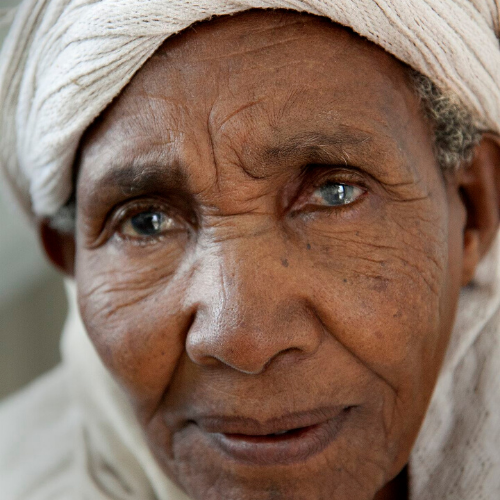 The Robert Sinskey Eye Institute helped nearly 25,000 patients in 2019!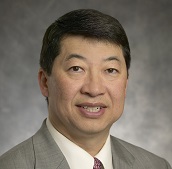 "Cataract surgery is one of the most widespread, technological advances, cost-effective, and impactful surgeries in all of medicine. Restoring sight to so many appreciative cataract patients is one of ophthalmology's most gratifying privileges. The tragic irony within our profession is that the leading cause of global blindness continues to be cataracts, because of limited access to surgery in so many resource-poor societies."
Daivd F. Chang, MD - Chair, International initiatives
Creating Partnerships with Impact
Equipment, including the lack of available operating microscopes, is one of the greatest barriers to expanding the availability of cataract surgery in Ethiopia.
Through a partnership with the Carl Zeiss Meditec and the Himalayan Cataract Project (HCP), the ASCRS Foundation's Master Trainer Program arranges for equipment to be placed it where it can deliver the greatest benefit.
The Foundation considers this model, involving a country-wide coordinated training program coupled with the proper equipment to support more rural outreach, to be the best approach for increasing the availability of high-volume surgical cataract care in the developing world. Together with our partners, we are improving physician training and support, and assisting with equipment placement in those areas where it can maximize patient benefit.
Master Trainers Program
In 2016, the ASCRS Foundation launched its Master Trainer Program, identifying Ethiopia's six leading teaching ophthalmologists, and bringing them together through a consortium dedicated to improving the quality of surgical instruction, and ultimately the number of surgical ophthalmologists in Ethiopia.
The Master Trainers include Ethiopia's five existing residency directors along with the Senior Surgeon at the ASCRS Foundation's Sinskey Eye Institute. Together they oversee the clinical experience of nearly all Ethiopian residents, while also assisting and providing guidance concerning the eventual placement of those surgeons.

Too often, the advantages of surgical training in Ethiopia are greatly diminished due to a lack of available equipment. Additionally, those trained in residency often lose access to microscopes and other surgical equipment upon graduation because functional ophthalmic equipment is clustered in private-practice, premium clinics offering Western-style care to the country's wealthy. This results in too many surgical ophthalmologists migrating to the affluent sections of the capital city where they treat a small patient population.
The ASCRS Foundation is working to keep more Ethiopian ophthalmologists in the parts of the country where they're needed most. The focus is on high-volume, manual small-incision cataract surgery, which enables more patients to be effectively treated at lower-cost without the risks associated with phaco surgery. The Master Trainer Program provides a standardized curriculum to uniformly train Ethiopian residents in MSICS, and the Sinskey Eye Institute offers a busy, clinical setting where residents participate in surgical rotations aimed at improving their skills.
Supporting Education In Ethiopia
In April 2019, Barbara Erny, MD, the ASCRS Foundation's Medical Liaison for International Programs returned to Ethiopia to see firsthand the students and programs directly affected by the Foundation's support. Dr. Erny traveled to Addis Ababa, Ethiopia, to participate in the ICO Board Review Course. The three-day course was planned by the Himalayan Cataract Project with support from a generous Emory University grant and the ASCRS Foundation. When the results of the 2019 exams were released, Ethiopian residents posted the highest grades among all African participants.

The ASCRS Foundation is proud to work with NGO partners like the Himalayan Cataract Project, along with in-country ophthalmologists to provide quality training. Ethiopia now has five residency programs, providing training in every subspecialty, with the exception of neuro-ophthalmology. Several fellowships are scheduled to begin next year. Helping residents pass their board exams provides the foundation for sustainable, locally-sourced eye care. The ASCRS Foundation has provided board review courses each year since with continued excellent results.
Learn More About the ICO Board Review Course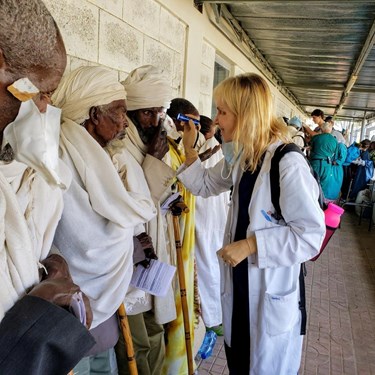 Haitian Ophthalmology Initiative
Working in partnership with Haitian Vision Alliance and SEE International, the Foundation is supporting the Haitian Ophthalmology Initiative. In a country of approximately 13 million people, it is estimated only 13 ophthalmologists currently perform cataract surgery. This has resulted in a backlog of over 100,000 patients, many under the age of 22. The focus of this program is to develop a well-structured, in-country residency program train future surgical ophthalmologists.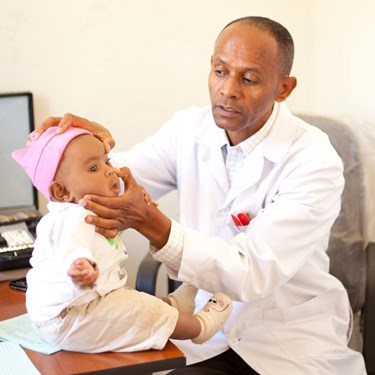 Our International Partners
To solve the problem of increasing cataract blindness worldwide, the ASCRS Foundation knows we need to address its root cause - the shortage of eye surgeons. The long-term solution will come from creating local ophthalmic centers of excellence and training, with the dual mission of raising the local standards for patient care and physician training. We cannot do this alone and we are thankful for the partnership of the following organizations:
Aravind
Global Sight Alliance
Haitian Vision Alliance
Himalayan Cataract Project
Moran Eye Institute
Orbis International
Project Vision
Ruth and Lowell Gess Eye Hospital
Seva Foundation
SEE International
Vision Care
About the Foundation Financials & Disclosures
The ASCRS Foundation supports physician education and provides humanitarian cataract surgery in the United States and developing countries. Through its programs and partnerships, the Foundation works to maximize the benefits of modern ophthalmology and to treat thousands of patients in need each year. The ASCRS Foundation is a 501(c)(3) organization. EIN: 23-7388748.