Awards & Grants
Young Eye Surgeons International Service Grant
About the Grant
The Young Eye Surgeons International Service Grant was created to inspire young eye surgeons to become involved with global eye care on a long-term basis. The grant affords the opportunity to participate in health care systems, including teaching institutions and community programs, in developing countries. Working with the ASCRS Foundation and its international partners, recipients get to develop a customized international volunteer plan that provides the opportunity for a young eye surgeon to learn first-hand the intricacies behind global eyecare efforts.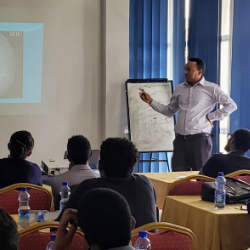 2020 Grantee Video Series
2020 Young Eye Surgeons International Service Grantees
Young Eye Surgeons International Service Grant Committee
Barbara C. Erny, MD
Medical Liaison for International Programs
Suzanne Gilbert, PhD, MPH
Cristos Ifantides, MD, MBA
Neda Nikpoor, MD
Jeff Pettey, MD
Grace Sun, MD
Russell Swan, MD
About the Foundation
The ASCRS Foundation supports physician education and provides humanitarian cataract surgery in the United States and developing countries. Through its programs and partnerships, the Foundation works to maximize the benefits of modern ophthalmology and to treat thousands of patients in need each year. The ASCRS Foundation is a 501(c)(3) organization. EIN: 23-7388748.